Arthroscopic (Keyhole) Surgery is a Knee Preserving Procedure
Key Facts: Arthroscopic Knee Surgery
Inpatient treatment: 2 days
Outpatient treatment: 7 days
Earliest flight home: 7 days after surgery
Recommended flight home: 10 days after surgery
Time before showering: 5 days after surgery
Recommended time off work: 2 weeks
Time before suture removal: 5 days
Time before driving a car: 2 weeks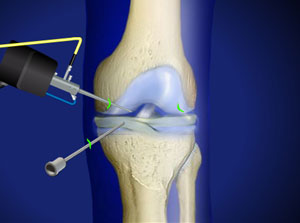 Arthroscopic surgery (key hole surgery of the knee) involves a minimally invasive technique usually done as day case surgery and is conducive to a remarkably quick recovery.
Loose bodies, fragments and pieces if bone and cartilage floating in the knee can be removed and washed out. Rough surfaces causing Osteoarthritis and inflammation can be made smoother. As the incision in the knee is so small, scarring is minimal and trauma is reduced, giving a consequent reduction in pain and postoperative complication.
Arthroscopic cartilage and meniscus repair removes roughness, friction and "wear and tear" in the cartilage.
Fact Sheet Knee Arthroscopy
Knee Arthroscopy examines and surgically repairs damage to bones, cartilage and ligaments of the knee
2 days inhouse treatment after surgery
No inpatient rehabilitation required
Earliest flight back home 3 days after surgery
No follow up investigation required
Recommended sick leave work 1-2 weeks
Knee Joint Arthroscopy: Joint preserving surgery