Dr. Christoph Ewald, MD, Registrar for Orthopaedics and Trauma Surgery
Treatment specialities:
Conservative orthopaedics, osteopathy, acupuncture, foot and ankle surgery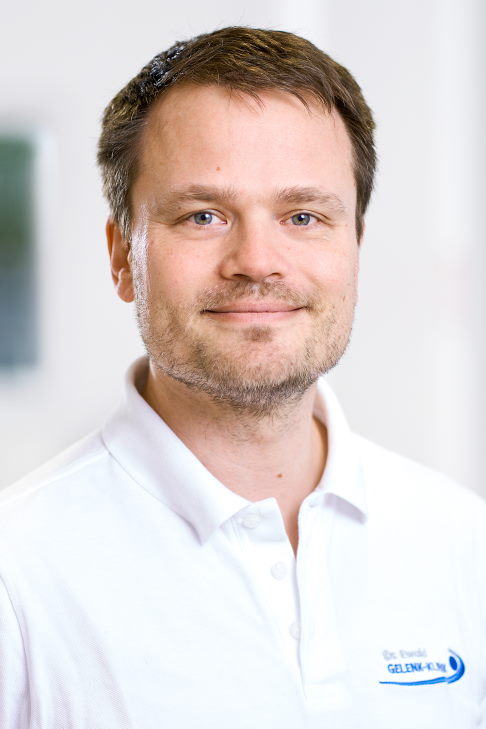 The possibilities of medical and endoprosthetic patient care today are vast. Yet whilst studying medicine and during my 3 and 5 year training as a physiotherapist and osteopath I always focused on not only viewing the human as a sum of their joints. The smooth interaction between all function chains in the body and how they make each person different is quite special.
We would like to use our treatment approaches to help our patients be pain-free again and enjoy moving around. During the consultations for my osteopathic treatments I develop a therapy goal with the patient to reflect the physical condition and the patient's needs. Not everybody with gonarthrosis needs an artificial knee joint if conservative treatment will suffice for the necessary short distances. What may be the best treatment for one person may not provide another with satisfactory results. In addition, I try to also account for the patient's fears and uncertainties and in my consulting position throw light on all options.
I use my expertise in conservative orthopaedics to motivate patients to take the path of self-help. I explain the complex relationships and promote an understanding of their medical condition. After all, where the pain or dysfunctions are located is not always the location of the actual medical condition. An altered gait due to advanced arthrosis in the ankle will often cause knee or hip pain. If something's wrong with a joint in the body, this affects the entire structure and mobility. Together with my colleagues I exhaust the entire spectrum of conservative treatment options. I therefore consider myself a medical attendant for patients and am happy when I can see their progress during a consultation.
Additional Qualifications
Manual therapy / chiropractic
Osteopathy
Acupuncture
Sonography of the movement organs
Sonography of the abdomen, retroperitoneum, leg veins, thorax
Diagnostic radiology of the musculoskeletal system
Medical Education
2001 to 2004: Physiotherapy school at Universitätsklinikum Freiburg im Breisgau
2006 to 2011: Osteopathy studies at Osteopathie Schule Deutschland (OSD)
Physiotherapy Advanced Training
Foldi manual lymph drainage
Dorn Method spinal column treatment
Cyriax Approach manual therapy
Motor learning based on Spiral Dynamics, Ashtanga Yoga and Asian medicine
Medical Career
Medical training:
2008 to 2014 at University of Freiburg
Sub-intern:
Medical placements:
2017 to 2018: Registrar advanced training in the intensive care unit at Helios Klinik Müllheim
2016 to present: Registrar advanced training in orthopaedics and trauma surgery at Helios Rosmann Klinik Breisach
2020 to present: Registrar advanced training in orthopaedics and trauma surgery at Gelenk-Klinik Gundelfingen
Doctorate dissertation:
Fever therapy with intravenously applied mistletoe extracts for cancer patients: a retrospective study
Fellowships: