Foot pain: When to have surgery?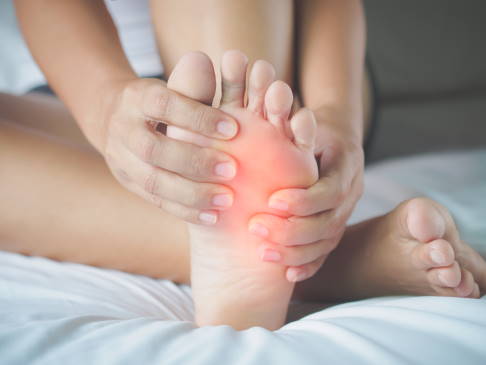 Feet carry the whole weight of our body and help us walk an average of 5,000 steps a day. Our modern lifestyle and leisure activities, such as sports and wearing high-heels and uncomfortable footwear, make us more prone to foot pain.
While our feet are stressed every day, most people suffer from foot pain (either one foot or both feet) at some time in their lives. More than often, pain would be harmless and disappear after a short period of time. It could happen as part of the ageing process, but sometimes, it is the result of a more serious health problem or a deformity such as rheumatoid forefoot.
What causes foot pain?
Sports and accidents:
Achilles' tendonitis and rupture
Heel spurs
Stress fractures
Osteoarthritis and bone necrosis:
Hallux rigidus
Osteonecrosis
Foot deformities:
Nerve compression syndromes:
Tarsal tunnel syndrome
Entrapment of the Baxter nerve
Metabolic and circulatory disorders:
Gout
Diabetes mellitus
Peripheral arterial occlusive disease (PAOD)
Dermatological causes:
Pressure sores
Corns and calluses
Athlete's foot (Tinea Pedis)
Ingrown toenail
Inflammation of foot tendons and joints:
Wound healing disorders
Rheumatism
How to prevent foot pain?
Sometimes it is possible to reduce discomfort by avoiding overstrain. Overstrain might be caused by taking long walks, excessive running or jogging. It may also be caused by adopting an over compensating posture (finding a new walking position to reduce the pain).
Reducing overstrain could be achieved using comfortable well-fitting shoes, with inserts and damping (shock absorbing) heels. Strengthening of the foot muscles through foot-focused exercise is also recommended. Foot baths, foot massages and weight reduction will also have a positive effect on sore feet.
Acute foot pain caused by poor posture or overuse usually goes away on its own. Sometimes it can be helpful to use bandages, ointments or plaster bandages to immobilize the foot and help it heal.
Severe pain can be temporarily alleviated using NSAIDs (anti-inflammatory painkillers), but they will not eliminate the cause. If it is the joints of the foot that are causing pain, local anaesthetics or cortisone may help. In specific cases, only surgery will reduce the pain in the long term. You could seek comprehensive advice from a foot specialist.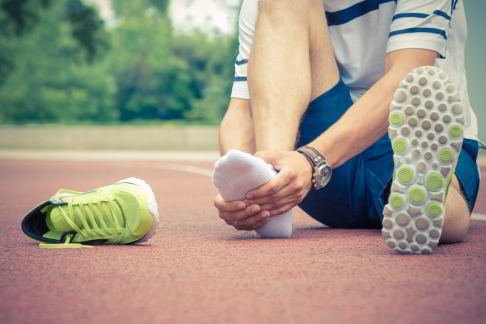 When should I contact my doctor about foot pain?
You should see a doctor if the pain lasts more than three days, gets worse with exercise, or is associated with other medical conditions. You should see an orthopaedic specialist immediately if the pain reduces your range of motion, if the skin is red, if you have a fever or if the joint is swollen.
What surgical procedures are available at the Gelenk-Klinik?
Gelenk-Klinik in Gundelfingen has been a certified centre for foot and ankle surgery (ZFS) since 2017. In Gelenk-Klinik we set the highest standards for patient care and medical training. Our foot specialists perform the following surgical procedures for foot malpositions and injuries:
Arthrodesis of the metatarsophalangeal joint of the big toe for hallux rigidus
Joint-preserving surgery for hallux rigidus
Partial prosthesis for hallux rigidus
Cartilage-like surface replacement for hallux rigidus
Endoscopic heel spur ablation
Tailor's bunion surgery
Hollow foot operations: Tendon interventions, bone realignments, fusions
Which qualifications and professionalism have our foot surgeons?
Here at the Gelenk-Klinik, a close relationship between doctor and patient is important. This means You will be under the care of your treating doctor from the first examination until after the operation. You will always have a contact person who is familiar with your case and who will be assigned to you throughout your stay at the Gelenk-Klinik. Our experts for foot and ankle surgery are the experienced specialists Dr. Thomas Schneider and Dr. Martin Rinio. They are board-certified foot and ankle surgeons whose training, diagnostics and surgical quality are reviewed annually by an independent German professional association (DAF). The Orthopaedic Gelenk-Klinik is therefore a specialist centre with the title "Centre for Foot and Ankle Surgery" (ZFSmax).
Diagnosis and preparing for foot surgery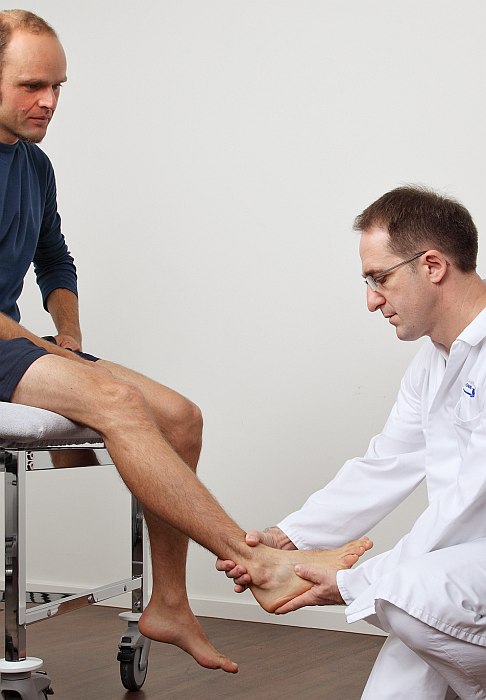 The doctor will first perform a detailed medical diagnosis to get a good overall picture. This will include a clinical examination and, if necessary, imaging tests. Once it has been decided that the patient is fit for surgery, the doctor will explain the procedure and possible complications. The patient will also meet with the anaesthetist, who will make a detailed assessment of whether the patient is healthy enough to withstand an anaesthetic. Once the anaesthetist and the surgeon reach a consensus, the operation would usually take place the day after the assessment.
Should I expect pain after the surgery?
All surgeries cause pain. We always thrive to minimise pain after surgery. The anaesthetist will often perform a nerve block prior to the operation, numbing the foot for around 30 hours. At this stage, most of the pain is controlled and any remaining discomfort can easily be treated with standard medication. Our goal is that you experience as little pain as possible.
How does Gelenk-Klinik support and organize my treatment?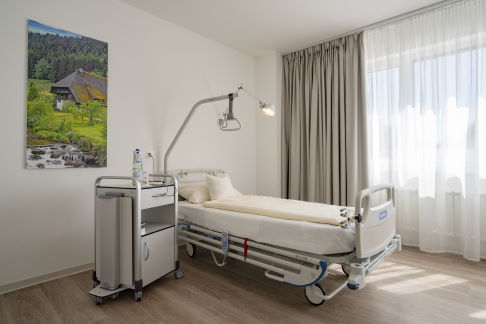 During your inpatient stay at Gelenk-Klinik, you will have a single room. The room has an en-suite bathroom with shower and toilet. Towels, a bathrobe and slippers are provided in all rooms. A minibar and a safe is included. All rooms also have a television. You only need to bring your personal medication, comfortable clothes and nightwear. After the operation, you will be looked after 24 hours a day by experienced nursing staff and skilled physiotherapists. The hospital stay after bunion surgery is usually 2 days. There is a hotel within walking distance where your family can stay. We will be happy to help you with your reservations.
What to consider after surgery?
After the operation, you should elevate your foot and keep it cool. This will help reduce pain and swelling. Use crutches to take the weight off your foot. When you can put weight on your foot again depends on your diagnosis and the type of surgery you had.
It is vital to use thrombosis prophylaxis medication until your foot returns to full weight-bearing. This will prevent dangerous blood clots from forming. You will further receive physiotherapy.
During the follow-up treatment, it is important to re-establish muscular balance and to stabilise and strengthen the foot. This is obtained through mobilizing exercises, massage and specialised therapy.
What is the cost of foot surgery in Germany?
As well as the cost of the operation, you will also need to take into consideration some additional costs for diagnostics, doctors' appointments and aids (e.g. forearm crutches). If you plan to have outpatient physiotherapy after surgery, we will be happy to provide you with a cost estimate. Information on the cost for hotel accommodation and any follow-up treatment in a rehabilitation clinic can be found on the websites of relevant providers.
How to get an appointment for foot surgery in Germany?
The foot specialists in Germany will need recent MRI scans and especially X-rays of the foot to determine the condition of the base of the big toe. Once these have been sent to us via our website, you will receive a patient information letter within 1-2 working days, including a treatment proposal and a binding cost estimate.
Gelenk-Klinik offers appointments for international patients to suit your travel itinerary. We will be happy to help you apply for a visa once we have received the deposit specified in the quotation. If the visa is refused, we will refund the full deposit. We try to minimise the time between pre-surgery and surgery for our international patients to avoid additional travel. During your inpatient and outpatient stay, our multilingual (English, Russian, Spanish, Portuguese) case management team will be available to assist you. We can also provide an interpreter (e.g. Arabic) at the patient's expense. We are happy to assist you with arranging transport, lodging and recreational activities for your family members.