Imprint
Publisher
Responsible for this website as per § 6 of the German Teleservices Act (TDG) & § 6 of the German Interstate Agreement on Media Services (MDStV):
MVZ Gelenk-Klinik Dres Schneider, Ostermeier & Partner Ärztepartnerschaft
Alte Bundesstr. 58
79194 Gundelfingen / Germany
Tel.: +49-79117-228
Fax: +49-79117-999
E-mail: clinic@joint-surgeon.com

Medical Director of MVZ: Dr. Martin Rinio
Managing Director: Karlheinz Schuler
Professional Certifications:

Specialist for Orthopedics/Specialist for Physical and Rehabilitative Medicine/Specialists for Neurosurgery
The content of this website is intended to complement advice from a health professional. www.joint-surgeon.com provides only general information, it is therefore not intended to replace clinical investigation or professional advice.
Advertising Policy
No advertising is displayed or accepted on this website.
Regulatory Authorities:
Statutory Health Insurance Association of Südbaden State Medical Association of Baden-Württemberg
Professional Regulations:
Responsible Medical Association:
District Medical Association of Südbaden
Sundgauallee 27
79114 Freiburg / Germany
www.aerztekammer-bw.de

This website is in compliance with the disclosure obligations that apply to the operators of medical homepages as per the German Electronic Commerce Act.
Bank Account Information Gelenk-klinik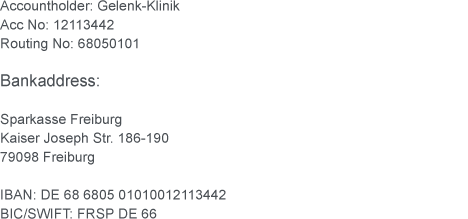 Graphic Design and Web design
Franziskus Reitemann
Drupal Development, Server administration
Legal Remarks (Liability Disclaimer)
1a. Online Content
The author makes no guarantee whatsoever for the currency, accuracy, completeness or quality of the information provided. All liability claims against the author relating to injury or damage of a material or immaterial nature that arise in connection with the use or non-use of the presented information or in connection with the use of inaccurate or incomplete information are excluded, so long as no criminal intent or gross negligence on the part of the author has been demonstrated.
All the offers that appear on the website are non-binding. The author expressly reserves the right to change, expand or delete any parts of the website or the entire offer without prior notice, or to terminate the publication temporarily or permanently.
1b. Cookies
Cookies are used on the website to maximize user comfort. These cookies are stored in the form of text files on the user's computer when the user logs in. They enable the user to navigate the website without having to dial up anew at each menu item. The cookies are not evaluated by the site operator in any manner and they are not used by the site operator in any manner for purposes of recording user actions or forwarding user actions to third parties. The cookies are deleted from the user's computer as soon as the user logs out.
2. Links
The author accepts no liability for the contents of linked web pages. Liability in this regard would apply only if the author were aware that the contents of the linked webpage were unlawful and neglected to prevent access to the linked webpage although doing so would have been technically feasible and one could reasonably have expected the author to do so. The author hereby declares that no unlawful contents were detectable on the linked web pages at the time the links were installed. The author has no influence whatsoever as to the current or future design, contents or authorship of the linked web pages. Therefore, the author hereby expressly disclaims any responsibility for the contents of any linked webpage that changes after the link was installed. This disclaimer also applies to all links installed on the author's own website, as well as to all third-party entries in guest books, discussion forums and mailing lists set up by the author. The operator of the target webpage is alone responsible - and expressly not the party who merely references a webpage through the installation of a link - for any illegal, inaccurate or incomplete contents, and especially for any injury or damage that arises in connection with the use or non-use of such contents.
3. Copyrights and Trademark Rights
In the context of publishing information on the present website, the author shall strive to honor the copyrights that apply to any diagrams, audio recordings, video sequences and texts that are neither the property of the author nor otherwise available to the author on a license-free basis. All the brands and trademarks that appear on the website and that may be protected by third parties are unconditionally subject to the applicable trademark and property rights of the registered owner. One would be mistaken to assume that a brand or trademark is not protected by the rights of third parties merely because it has been mentioned or shown on the website! The copyright for any published objects created by the author shall be retained by the author of the web pages in question. The copying or use of any such diagrams, audio recordings, video sequences and texts in other electronic or print publications is prohibited without the express, written consent of the author.
4. Data Privacy Policy
Data Protection Officer according to General Data Protection Regulation (GDPR)
The GDPR gives you the right, to enquire at any time about the personal data stored, demand deletion of stored data you or to ask questions about data protection policies. This request can be addressed to the official date protection officer of MVZ Gelenk-Klinik:
Data Protection Supervisor: Stefan Fischerkeller, Dr. -Klein-Str. 29, D-88069 Tettnang
Kontakt: datenschutz@gelenk-klinik.de
Our website may be used without entering personal information. Different rules may apply to certain services on our site, however, and are explained separately below. We collect personal information from you (e.g. name, address, email address, telephone number, etc.) in accordance with the provisions of German data protection statutes. Information is considered personal if it can be associated exclusively with a specific natural person. The legal framework for data protection may be found in the German Federal Data Protection Act (BDSG) and the Telemedia Act (TMG). The provisions below serve to provide information as to the manner, extent and purpose for collecting, using and processing personal information by the provider.
MVZ Gelenk-Klinik Dres Schneider, Ostermeier & Partner Ärztepartnerschaft
Tel: +49-761 55 77 58 28
Server Data
For technical reasons, data such as the following, which your internet browser transmits to us or to our web space provider (so-called server log files), is collected: - type and version of the browser you use - operating system - websites that linked you to our site (referrer URL) - websites that you visit - date and time of your visit - your Internet Protocol (IP) address. This anonymous data is stored separately from any personal information you may have provided, thereby making it impossible to connect it to any particular person. The data is used for statistical purposes in order to improve our website and services.
Cloudflare Web firewall and content delivery network
We use Cloudflare as a Content Delivery network. Cloudflare will store logfiles and Ip addresses for a short period of time in order to protect our servers from attacks and malware. Cloudflare also provides a data aggregation service for content providers. Cloudflare may aggregate data we acquire about our users and the visitors to their websites. For example, we may assemble data to determine how Web crawlers index the Internet and whether they are engaged in malicious activity. If we assemble this sort of data and provide it to external parties, our users' personal information will never be attached to or included in such aggregated data. Please note, data that our users provide to us, such as log files of their site's visitors, may be included in the aggregate data, reports, and statistics.
Contacting Us
On our website we offer you the opportunity to contact us, either by email and/or by using a contact form. In such an event, the information provided by the user is stored for the purpose of facilitating communications with the user. No data is transferred to third parties. Nor is any of this information matched to any information that may be collected by other components of our website.
Data transfer via Jotform.com
For secure and comfortable submission of data and documents to members of our international patient support team we provide the secure JotForm web form service integrated as an app into our website. This upload form is provided as a safe and easy-to-use file transfer service for large volumes of data via the internet. The submitted data are transferred to JotForm via HTTPS in an encrypted manner.
By loading the Jotform applet within our website Jotform receives your anonymous server data: IP-Address, browser, operating system, time of access and referrer-URL are stored and processed by JotForm in order to provide the service. The data are anonymous, they will not be used to identify you as a person. The data of your submission include your name, your country of origin and your E-mail address, in addition to medical files. For additional safety, you may use encrypted zip for your file upload. These data are only accessed by our staff for the purpose of preparing your medical appointment.
Please find the data protection policy of JotForm here:
https://www.jotform.com/privacy
Use of Google Analytics with anonymization
Our website uses Google Analytics, a web analysis service from Google Inc., 1600 Amphitheatre Parkway, Mountain View, CA 94043 USA, hereinafter referred to as "Google". Google Analytics employs so-called "cookies", text files that are stored on your computer in order to facilitate an analysis of your use of the site.
The information generated by these cookies, such as time, place and frequency of your visits to our site, including your IP address, is transmitted to Google's location in the US and stored there.
We use Google Analytics with an IP anonymization feature on our website. In doing so, Google abbreviates and thereby anonymizes your IP address before transferring it from member states of the European Union or signatory states to the Agreement on the European Economic Area.
Google will use this information to evaluate your usage of our site, to compile reports on website activity for us, and to provide other services related to website- and internet usage. Google may also transfer this information to third parties if this is required by law or to the extent this data is processed by third parties on Google´s behalf.
Google states that it will in never associate your IP address with other data held by Google. You can prevent cookies from being installed by adjusting the settings on your browser software accordingly. You should be aware, however, that by doing so you may not be able to make full use of all the functions of our website.
Google also offers a disabling option for the most common browsers, thus providing you with greater control over the data which is collected and processed by Google. If you enable this option, no information regarding your website visit is transmitted to Google Analytics. However, the activation does not prevent the transmission of information to us or to any other web analytics services we may use. For more information about the disabling option provided by Google, and how to enable this option, visit https://tools.google.com/dlpage/gaoptout?hl=en
Translate Turn off instant translation 493/5000
Use of Google reCAPTCHA
In order to protect our web pages against automatic bots, we use the reCAPTCHA service from Google Inc. The Google reCAPTCHA is intended to help human visitors distinguish from automatic bots and serve data security. reCAPTCHA sends the IP address to Google. For more information, please visit: https://www.google.com/intl/en/policies/privacy/ .
Use of Google Maps
We use the "Google Maps" component of Google Inc., 1600 Amphitheatre Parkway, Mountain View, CA 94043 USA, hereinafter "Google."
Google sets a cookie in order to process the user configuration and data when the page with the integrated "Google Maps" component is displayed. As a general rule, this cookie is not deleted by closing the browser, but rather expires after a certain time, as long as it is not previously manually deleted by you.
If you do not agree with this processing of your data, you may choose to deactivate the "Google Maps" service and thereby prevent the transfer of data to Google. To do this, you must deactivate the Java Script function in your browser. However, we would like to point out that in this case, you will not be able to use "Google Maps" or at least only to a limited extent.
The use of "Google Maps" and the information obtained through "Google Maps" is according to Google's Terms of Use
http://www.google.de/intl/de/policies/terms/regional.html
as well as the additional Terms and Conditions for "Google Maps"
https://www.google.com/intl/de_de/help/terms_maps.html.
Use of YouTube components with enhanced data protection mode
On our website we use components (videos) of YouTube, LLC 901 Cherry Ave., 94066 San Bruno, CA, USA, a company belonging to Google Inc., Amphitheatre Parkway, Mountain View, CA 94043, USA.
To this end, we use the " - enhanced data protection mode - " option provided by YouTube.
When you display a page that has an embedded video, a connection will be made to the YouTube server and the content will appear on the website via a communication to your browser.
According to the information provided by YouTube, in " - enhanced data protection mode -", data is only transferred to the YouTube server, in particular which of our websites you have visited, if you watch the video. If you are logged onto YouTube at the same time, this information will be matched to your YouTube member account. You can prevent this from happening by logging out of your member account before visiting our website.
Further information about data protection by YouTube is provided by Google under the following link:
https://www.google.de/intl/de/policies/privacy/
View-Medica Medical Videos
The information service Viewmedica integrates information videos on orthopaedic diseases and therapies on many subpages in the Website. The video retrieval takes place from the domain https://www.swarminteractive.com. When the videos are retrieved, anonymous server data (IP addresses, browser type, operating system, referrer-URL, time of access) is stored in the server log files at Swarminteractive.com.
Privacy Policy of Swarm Interactive
.
Information/Cancellation/Deletion
On the basis of the Federal Data Protection Act, you may contact us at no cost if you have questions relating to the collection, processing or use of your personal information, if you wish to request the correction, blocking or deletion of the same, or if you wish to cancel explicitly granted consent. Please note that you have the right to have incorrect data corrected or to have personal data deleted, where such a claim is not barred by any legal obligation to retain this data.
Sample Data Privacy Policy Statement provided by the Law Offices of Weiß & Partner
5. Legal Validity of this Disclaimer
This disclaimer is to be regarded as an integral part of the Internet offer that included a reference to this webpage. If some parts of this text or particular formulations contained herein should prove to be or become invalid or inapplicable, this will in no way affect the validity of the remaining parts of the document.