Spine surgery: Anterior Cervical Discectomy & Fusion
Key Facts: Cervical Discectomy and Fusion Surgery
Inpatient treatment: 7 days
Outpatient Rehabilitation: 14 days
Earliest flight home: 7 days after surgery
Recommended flight home: 14 days after surgery
Time before showering: 1 day after surgery
Recommended time off work: 4 weeks
Suture removal: no sutures
Time before driving a car: 1 week
Average Price of Cervical Discectomy and Fusion Surgery: 18.286 EUR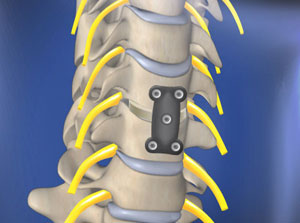 What is Anterior Cervical Discectomy & Fusion?
This is surgery to alleviate pressure and pain caused by a damaged cervical disc in the neck.
When a disc in the neck region of the spine becomes ruptured or bursts as a result of damage to the surface, the soft material inside the disc comes out, hardens and can press on the nerves which run through the spinal column.
Pain is often felt as burning and may be accompanied by tingling, numbness, or muscle weakness in the neck, shoulders, arms and hands.
When non invasive treatments (rest, tablets or injections to reduce pain and inflammation, and physiotherapy) and simple surgery to remove the bulging portion of the disc, do not solve the problem, specialist surgeons at the Gelenk-Klinik may recommend an Anterior Cervical Discectomy & Fusion.
How is Anterior Cervical Discectomy & Fusion surgery performed?
A small incision (cut) is made at the front of the neck through which the damaged disc is removed. As pressure is removed from the pinched nerve, pain is relieved . The empty space between the vertebrae is filled by a bone graft, which over time knits together with the vertebrae immediately above and below, to form a new bone mass, called a fusion. Sometimes the surgeon may screw a small metal plate in place, over the site of the bone graft during the healing process.