Gelenk-Klinik: Orthopaedic Excellence in Freiburg, Germany
The orthopaedic Gelenk-Klinik in Freiburg, Germany, specialises in treatment of osteoarthritis, back and joint conditions. Our experienced team of orthopaedists, radiologists, rehab therapists and physiotherapists work to the highest quality standards to offer you the best possible service. We have treated over 24,000 patients and performed over 2,500 surgeries for orthopedic conditions.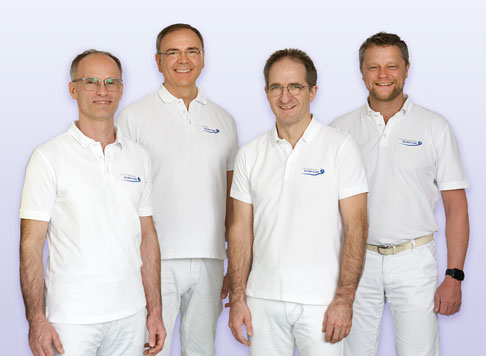 What can the orthopaedic Gelenk-Klinik offer you?
Experience with orthopaedic conditions for over 24,000 patients and 2,500 operations a year
Orthopaedic specialists, who are among the best in their field
We will provide you with comprehensive care from our experienced specialists, from diagnosis to treatment and aftercare
We offer a comfortable and personalised experience in our private orthopaedic clinic
25 in-patient beds in single and double occupancy rooms with exclusive amenities
Our experienced nurses provide you with the highest level of care
We are available 24/7 for your medical needs
We provide you with comprehensive aftercare from our team of rehabilitation therapists, physiotherapists, and social workers
Our doctors are experts in their fields and are actively involved in teaching and research
We are committed to providing you with the highest quality care, and we are proud of our external certifications: Centre for Endoprosthetics (EPZ), Maximum Treatment Centre for Foot and Ankle Surgery (ZFSmax)
We welcome patients from all over the world
Gelenk-Klinik offers appointments for international patients to suit your travel itinerary. We will be happy to help you apply for a visa once we have received the deposit specified in the quotation. If the visa is refused, we will refund the full deposit. We try to minimise the time between pre-surgery and surgery for our international patients to avoid additional travel. During your inpatient and outpatient stay, our multilingual (English, Russian, Spanish, Portuguese) case management team will be available to assist you. We can also help you with hiring an interpreter in your language (e.g. Arabic).
We are happy to assist you in arranging transportation, lodging and recreation activities for your family members.
Surgical intervention in the Gelenk-Klinik
Knee Pain and Knee Surgery: Prof. Sven Ostermeier, M.D. and PD Dr. Bastian Marquaß, M.D.
With the help of modern and joint preserving therapies, our knee specialists at the Gelenk-Klinik treat patients with knee arthrosis and kneecap arthrosis, axial misalignment, meniscus damage and cruciate ligament ruptures, bone-cartilage damage, patella dislocation, bursitis and fractions in the knee joint. The great expertise of Prof. Sven Ostermeier and PD Dr. Marquaß, who also teach other doctors in German specialist associations, is regularly sought by patients from Germany and abroad.
Prof. Sven Ostermeier is the leader of the certified Centre of Endoprosthetics (EPZ). They are also proven scientific experts in various methods of cartilage therapy. The Gelenk-Klinik has proven quality in diagnosis, operative and postoperative care and rehab for prosthetic intervention:
Treatment spectrum of our knee experts
Foot and Ankle Surgery: Dr. Thomas Schneider and Dr. Martin Rinio
As the leader of the Maximum Treatment Centre for Foot and Ankle surgery, Dr. Thomas Schneider has the vast experience of over 20 years of specialised therapy and operations for the treatment of feet, heel and ankle conditions. Together with the renowned orthopaedist and trauma surgeon Dr. Martin Rinio, he offers a modern and patient-oriented diagnosis and therapy of your ailments in the orthopaedic Gelenk-Klinik. These include, among others, dynamic foot pressure (podometry) and gait analysis.
Patients with foot pain, heel and ankle conditions often travel long distances to attend consultations with our experts. The most common foot problems include:
Claw toes
Hammer toes
Hallux rigidus
Heel spur and plantar tendon inflammation
Achilles tendon inflammation and tears
Even rather rare conditions are in the best hands with the specialists for Foot and Ankle Surgery:
Ankle Impingement
Bone death in the ankle and bone adhesions
Treatment spectrum of our foot and ankle experts
Heel spur removal
Operation of high and fallen arches
Straightening the base of the big toes
Tendon transfer surgery
Correction of the ankle axis
Correction of complex deformities
Hip Pain and Hip Surgery: Dr. Martin Rinio and Prof. Lukas Konstantinidis M.D.
Dr. Martin Rinio and Prof. Dr. Lukas Konstantinidis have driven forward the development of minimally invasive surgical procedures for hip replacements over many years. The safety of patients and uncomplicated healing post-operation are our top priorities. Both hip specialists are very experienced in the procedure of replacement operations of a hip prosthesis after loosening or tightening.
While chronic hip pain, bursitis, femoral neck fractures and hip arthrosis are more common conditions of the elderly, our hip specialists often treat children with femoral head osteonecrosis (Legg-Calve-Perthes) or slipped capital femoral epiphysis (SCFE).
Treatment spectrum of our hip experts
Hip impingement surgery
Osteonecrosis surgery
Changing of hip replacement surgery
Shoulder Pain and Shoulder Surgery: Prof. Dr. Sven Ostermeier and PD Dr. Bastian Marquaß, M.D.
The shoulder specialists of the Joint-Clinic, Prof. Dr. Sven Ostermeier and PD Dr. Bastian Marquaß, have years of experience in the examination and treatment of shoulder conditions:
Frozen shoulder
Calcific tendinitis and shoulder impingement
Dislocated shoulder and tears in the tendon
Shoulder osteoarthritis in particular is one of the most common causes of shoulder pain in older patients.
Treatment spectrum of our shoulder experts
Individual shoulder replacements, cap replacements, anchored shoulder replacements
Reverse shoulder replacement, hemiprosthesis, modular prosthesis
Shoulder arthroscopy and second opinion of shoulder arthroscopy
Calcific tendonitis surgery
Surgery of injured shoulder joint
Back Pain and Spinal Surgery: PD David-Christopher Kubosch M.D., Christoph Ewald M.D. and PD Pawel Bak M.D.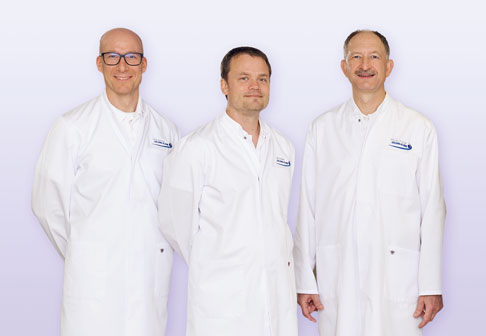 PD Dr. David-Christopher Kubosch is an experienced specialist in orthopaedics and trauma surgery as well as a qualified spinal surgeon. He is supported by an orthopaedic specialist Dr. Christoph Ewald, who specialises in conservative treatment in orthopaedics and osteopathy. Assisting them is PD Dr. Pawel Bak, who brings with him great expertise in pain therapy, chiropractic therapy and naturopathic treatment as a specialist in physical and rehabilitative medicine.
With the help of special orthopaedic diagnostics, our multi-disciplinary team of back specialists develops a personalised treatment plan, that focuses on the wishes and demands of the patients. They utilise the possibilities of conservative and joint-preserving therapy and complement this with their specialist knowledge in the field of minimally invasive procedure and spinal infiltration, spinal fusions and the latest generation of spinal disc replacement.
The back specialists of the MVZ Gelenk-Klinik can mostly offer their patients endoscopic and minimally invasive surgical procedures. In comparison to open surgeries, the healing is quicker, with less scarring and less complications.
Treatment spectrum of our back experts
Elbow Pain and Elbow Surgery: PD Bastian Marquaß, M.D.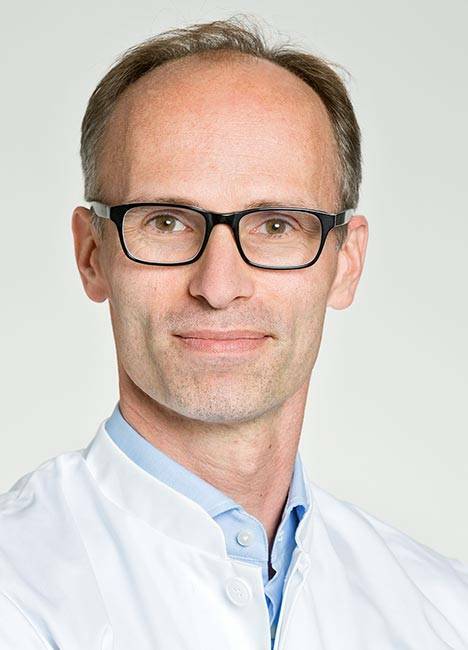 PD Dr. Bastian Marquaß is an elbow specialist and establishes the root of your issues with very detailed examinations:
Tennis elbow or golfer's elbow
Dislocated elbow
Stiff elbow
Loose bodies in the elbow
Ligament or tendon tears
Bursitis
PD Dr. Marquaß can also avoid the risk of elbow arthrosis from poorly healed radial fractures or monteggia fractures with early and personalised treatment.
Treatment spectrum of our elbow expert
Elbow arthroscopy
Elbow replacements
Cartilage transplant
Surgeries for ligament damage
Thumb saddle joint replacement
Carpal tunnel syndrome surgery
Surgeries for ligament damage