PD Dr. David-Christopher Kubosch, Senior Orthopaedic Consultant and Trauma Surgeon, Spine Surgery
Treatment specialities:
Spine surgery, orthopaedics, disc surgery, spinal disc replacement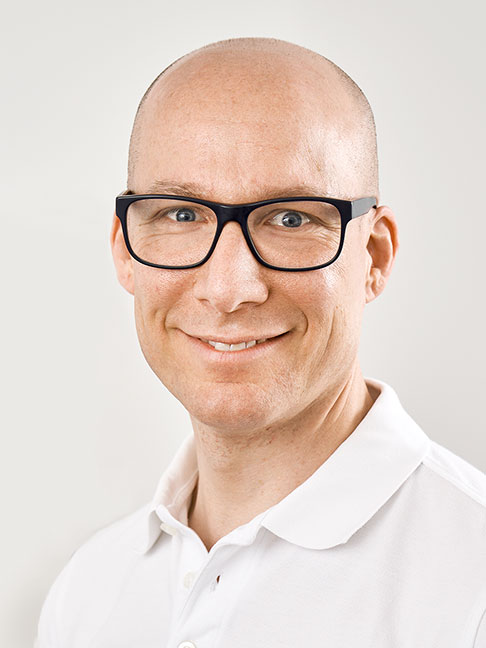 My interest in medicine goes all the way back to my early childhood and comes from my father, who was an internist. I frequently visited my father in his office, where I learned both the technical and the human aspect of being a physician. I was particularly fascinated by the skilled way in which people in need were treated and by the ways they were shown compassion and given constructive support. In my opinion there is no other job which combines the technical and human aspects this well.
My enthusiasm for surgery emerged whilst working as a stand-in surgeon during my alternative civilian service days. This time ultimately solidified my desire to become a surgeon. The interest for spine disorders and treating them came quickly after entering the profession, allowing me to focus on a field early on. My goal was to gain the most experience possible in treating the spine in these early years.
Due to the vast differences in patients, treating the spine in particular requires extensive treatment experience. The specific factors and wishes of patients often determine the course of treatment, not x-rays or MRI images. I therefore consider my role to be an equal discussion partner who offers suggestions to then decide the treatment together.
To further my experience and advance the field of spine surgery, I am leading several research projects at the University Medical Center Freiburg (Uniklinik Freiburg). I further use my work as a lecturer at the University Medical Center Freiburg to pass my experience and knowledge on to the next generation physicians.
Since 2020 I have been a DWG (Deutsche Wirbelsäulen Gesellschaft - German Society for Spine Surgery) certified spine specialist at Gelenk-Klinik. Focusing medical experience and skills in a relatively small team of highly experienced specialist at Gelenk-Klinik to ensure holistic care was particularly appealing to me.
Additional qualifications
Certified spine surgeon
Master certificate from the German Society for Spine Surgery (Deutsche Wirbelsäulengesellschaft - DWG)
Disc surgery
Disc prostheses
Orthopaedics and trauma surgery
DGQ quality manager in healthcare and social sectors
ATLS®-provider
Radiological diagnostics of the musculoskeletal system
Medical career
Medical training:
Student in practical year:
Medical wards:
2005 to 2015: registrar in orthopaedics, University Medical Center Freiburg
2015 acting senior practician of Department of Orthopedics and Trauma Surgery at University Medical Center Freiburg
Senior physician and spine surgery section head of Department of Orthopedics and Trauma Surgery at University Medical Center Freiburg
2017: bestowed venia legendi (authorisation to teach) in orthopaedics and trauma surgery with the habilitation thesis "Die ventrale Versorgung von Frakturen des thorakolumbalen Überganges der Wirbelsäule". (Ventral care of fractures of the thoracolumbar transition of the spine)
Since 2018 managing senior physician and spine surgery head of section of Department of Orthopedics and Trauma Surgery at University Medical Center Freiburg
• Since 2020: Orthopaedist and orthopaedic spine specialist at

Gelenk-Klinik Gundelfingen
Dissertation subject:
"Die Diagnose des Transplantatversagens bei der ventralen lumbalen Spondylodese. Eine Frage der Auflösung demonstriert am Xtreme-CT" (Diagnosing transplant failure in ventral lumbar spondylodesis. A matter of decomposition demonstrated on Xtreme-CT.)
Habilitation subject:
"Die ventrale Versorgung von Frakturen des thorakolumbalen Überganges der Wirbelsäule" (Ventral care of fractures of the thoracolumbar transition of the spine)
Fellowships
Scientific activity
Awards and prizes
Publications