Diagnosis and Surgery of Shoulder Impingement Syndrome
Fact Sheet: Arthroscopic Shoulder Impingement Surgery
Inpatient treatment: 3 days
Outpatient treatment: 28 days followed by 14 days of ouptpatient rehabilitation
Earliest flight home: 7 days after Surgery
Recommended flight home: 10 days after surgery
Time before showering: 7 days after surgery
Recommended time off work: 2-6 weeks (depending on profession)
Time before suture removal: 5 days
Time before driving a car: 6 weeks
What is Shoulder Impingement Syndrome?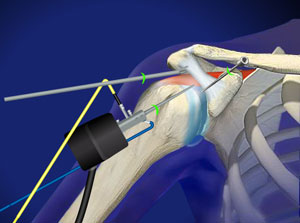 Shoulder impingement occurs when the tendons of the rotator cuff and the subacromial bursa become compressed (squashed) against the acromion (a bone which sticks out from the scapula). If these tissues continually rub against bone, as time passes they become irritated and inflamed. This could be a result of acromioclavicular joint arthritis, thickening or calcification (hardening due to the accumulation of calcium deposits) of the coracoacromial ligament, structural abnormalities of the acromion and weakness of the rotator cuff muscles.
What are the symptoms of Shoulder Impingement Syndrome?
The symptoms of this condition include pain, swelling, weakness and loss of movement, often made worse by overhead arm movements. Pain may be acute due to injury or gradually become worse due to an osteoarthritic spur. Swimmers, basketball and tennis players are vulnerable to this condition at any age. Pain may still be felt when the arm is not being used and it may be difficult to find a comfortable sleeping position.
What is the treatment for Shoulder Impingement Syndrome?
Initial treatment may include all or a combination of, rest, ice packs, non-steroidal inflammatory medications (NSAIDs), physiotherapy and steroid injections.
If the treatments listed above do not solve the problem, orthopaedic shoulder specialists at the Gelenk Klinik may recommend surgery to create space in the shoulder joint. The surgery is usually performed arthroscopically and may involve removing the structure which is causing the compression and widening the subacromial space.