Ankle Arthroscopic Surgery with the Potential for Joint Preservation
Fact Sheet: Ankle Arthroscopic Surgery
Inpatient treatment: 2 days
Outpatient treatment: removal of sutures only
Earliest flight back Home: 3 days after surgery
Recommended flight back home: 5 days after surgery
Time before showering: 7 days after surgery
Recommended time off work: 2 weeks
Time before suture removal: 7 days
Time before driving a car: 7 days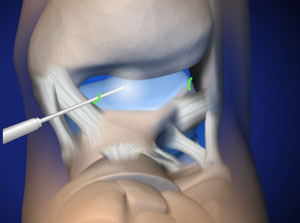 Diagnostic Ankle Arthroscopy can evaluate the ankle and provide a detailed diagnosis. Ankle arthroscopy allows the orthopaedic surgeon to see the current status of the ligaments, cartilage, synovia and bones forming the ankle joint complex. In the case of osteoarthritis of the ankle, arthroscopy shows the surgeon the current state of the cartilage tissue. Pathologic developments such as loose bodies in the synovial fluid of the ankle joint, inflammation and infection, osteophytes of the ankle and damage to the bones forming the ankle joint can also be evaluated by this method.
The foot and ankle specialist can see the detail inside the ankle joint by using minimally invasive instruments of less than a millimetre in diameter. Through small incisions, fibre-optic instruments can be passed into the ankle. Fluid is then injected, to expand the joint, giving the surgeon room to work. Obvious problems such as osteophytes (benign growths of bone tissue) can be treated during the same session.
After the ankle arthroscopy the incisions are closed and sutured. Patients can walk again 24h after arthroscopy, but may still feel the effects of the surgery up to a week after the procedure. Walking with crutches is advised. No particular rehabilitation is required after ankle arthroscopy.
Video animation showing Ankle Arthroscopy