Dr. med Thomas Schneider - Senior Orthopaedic Specialist
Sports medicine, foot and ankle surgery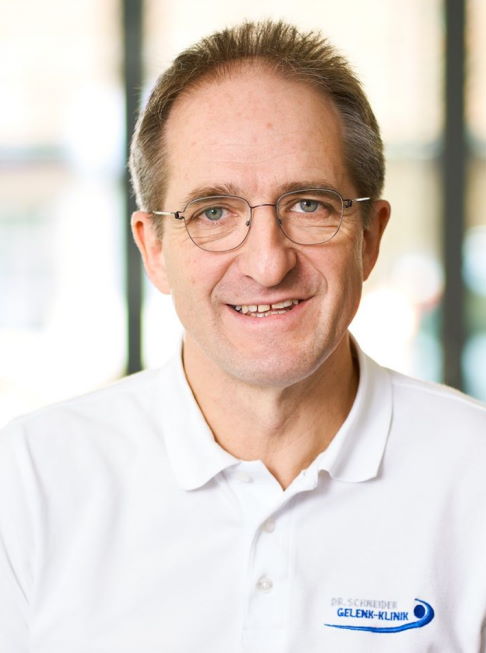 When I was 14, I had a friend whose father was a doctor. He always advocated for his patients, was empathetic and dedicated. It's largely because of him that I decided to go into medicine. He's still a role model for me today.
Working at Gelenk-Klinik allows me to be guided by these values I learned early on. Treating each patient as an individual and personal consultations are very important to me. When speaking with my patients I always try to put myself in their shoes. What do they need? What are their concerns? How can I convey medical facts so they will understand them? Gelenk-Klinik don't practice the anonymity so common in other clinics.
As head of the Foot and Ankle Surgery Centre (ZFSmax), my approach is to preserve the bone as best possible. The goals of every treatment should be to maintain mobility and alleviate pain. The focus is on conservative and minimally invasive treatments.
Qualification
Orthopaedic Specialist at the Gelenk Klinik Orthopaedic Hospital
PhD (1997) University of Freiburg
Orthopaedic Specialist since 2004
Expert Consultant for Arthroscopic Ankle and Foot Surgery
Ankle Replacement Surgery
Ligament Reconstruction
Total Hip Replacement (McMinn)
Cartilage Replacement
Arthroscopic Shoulder Surgery
Languages: English and German
Professional Experience
1999-2001 Specialisation in orthopaedics
2001-2002 Specialisation in trauma surgery
2002-2004 Specialisation in orthopaedics
since 2004 Chief physician at the Gelenk-Klinik Orthopaedic Hospital
since 2018 Director of the certified centre for foot and ankle surgery (ZFS) at Gelenk-Klinik Orthopaedic Hospital
Memberships
German Association for Foot and Ankle (Deutsche Assoziation für Fuß und Sprunggelenk e. V.)
Society for Foot and Ankle Surgery (Gesellschaft für Fuß- und Sprunggelenkchirurgie e. V.)