Ankle Ligament Reconstruction - treating chronic ankle instability
Fact Sheet: Ankle Ligament Reconstruction
Inpatient treatment: 2 days
Outpatient rehabilitation treatment required: 4 weeks
Earliest flight home: 5 days after surgery
Recommended flight home: 7 days after surgery
Time before showering: 12 days
Recommended time off work: 6 weeks
Time before removal of sutures: 12 days
Time before driving a car: 6 weeks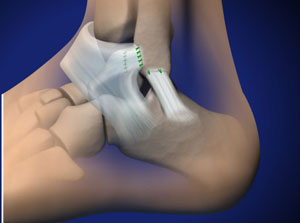 Ankle ligament reconstruction is a surgical treatment for chronic ankle instability when ligaments are stretched or torn (sprained ankle). If ankle instability following rupture of the ligaments has not responded to conservative treatment (including physical therapy), the foot and ankle specialist is able to suture the ligaments.
Lateral Ankle Ligament Reconstruction
Ankle ligament reconstruction or ankle ligament plastic surgery is a well tested procedure with a very reliable outcome. Ankle reconstruction can reverse chronic ankle instability and prevent further deterioration of the ankle joint. The best outcomes for this procedure are achieved by expert orthopaedic foot and ankle surgeons.
Ankle instability occurs when the ligaments are stretched or torn due to trauma in the joint. Torn ankle ligaments are the most frequent type of sports injury.
At present non surgical treatment is sufficient for most cases of ankle ligament rupture. However in some cases this approach is not sufficient.
For some patients partial instability of the ankle is still a problem after non surgical treatment and the impact of this affects people differently. An athlete, for example, will put more strain on the joint and requires a faster and more complete recovery from ankle ligament rupture, with a wider range of motion, than somebody who plays an occasional game of tennis.
If a very effective, very fast solution is required, a surgical ankle ligament reconstruction or reattachment can help to overcome ankle instability quickly and effectively. A simple repair known as the Bröstram-Gould technique is ideal for the athlete who needs to retain a full range of motion.
Ankle Ligament Reconstruction Surgery
A small incision (cut) is made along the outside of the ankle and the injured lateral ligaments are assessed. If a ligament has been stretched but not torn, it is cut and shortened, then the two ends are sewn together.
If a ligament is torn but still remains attached to the fibula bone, the ends are repaired and sewn together. If a ligament is found to have pulled away from the fibula, it must be reattached. Sutures (stitches) are used to attach the ligament to a small hole drilled in the fibula.
The extensor retinaculum (a band of tissue that crosses the front of the ankle joint) is used to reinforce the repair. A portion of it is pulled over the repair and sewn onto the fibula. This also helps to increase the stability of the ankle joint.
At the end of the procedure the incision is closed with a dissolving suture and steristrips on top of the skin. Plaster splints are applied until the swelling has disappeared. After a few days a short leg walking plaster cast is applied for three to four weeks.
Rehabilitation Following Lateral Ankle Ligament Reconstruction
Three to four weeks in a plaster cast is followed by a program of physical therapy. Full activity can usually be resumed after ten to twelve weeks.