Rehabilitation with the modern Anti Gravity Treadmill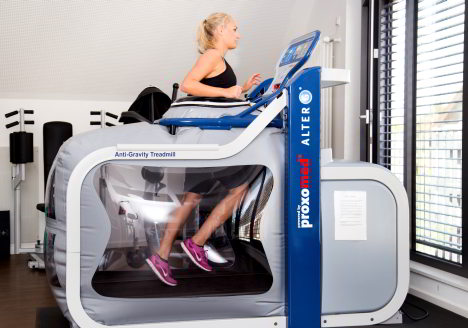 What is the anti-gravity treadmill?
The modern anti-gravity treadmill allows normal walking or running combined with an exactly controlled reduction of body weight.
While a normal pattern of gait is possible inside the anti-gravity treadmill the effect of gravity is partially or eliminated. This is particularly beneficial for patients with painful joint conditions on the lower extremity (leg), overweight patients or patients after surgery.
The application of anti-gravity treadmill training is always preceded by a medical examination. The anti-gravity training is supervised by a physiotherapist.
Medical principle of the Anti-Gravity treadmill
Application of the Anti-Gravity System after...
Knee arthroscopy
Cartilage replacement of the knee
Hip arthroscopy
Hip prosthesis
Ankle arthroscopy
Knee prosthesis
Ankle Prosthesis
Cartilage transplant of the ankle
Ankle osteotomy
This special treadmill allows natural walking or running with an adjustable body weight reduction of up to 80% of the patient's own body weight. Thus, the patient benefits from the health benefits of walking under significant reduction of his/her body weight.
This therapy is particularly beneficial for all patients with diseases or after surgery of the lower extremities: diseases of the hip, knee and ankle.
The brain and the neurological motor system experience and learn a natural movement pattern from normal running motion. This may bring significant improvements to patients with neurological diseases.
The movement pattern on the anti-gravity treadmill corresponds to the activities of daily walking and running far better than all previous methods used in physiotherapy. The positive impact of walking and running underweight relief for the rehabilitation process is significant. It prevents pain-related atypical motor patterns from getting hard-wired into the patient's brain.
Therapy objectives of the anti-gravity treadmill
The anti-gravity treatment may be applied for several reasons and medical conditions.
The main objective is weight reduction, allowing early training after surgery and supporting a normal gait pattern.