Our Mission - To achieve long term ease of movement through joint preservation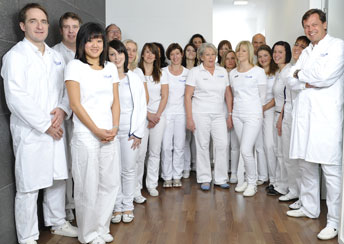 Our Vision. To be recognised as the preferred provider of orthopaedic services in Europe due to our long-term approach to treatment.
Our Mission To restore long-term ease of movement to and to alleviate pain in our patients through joint preservation. By using the most modern techniques, in a safe and comfortable environment.
We specialise in working with our patients to find long-term solutions to their orthopaedic problems. This means that instead of looking only for a "quick fix" treatment that will ease pain and improve the movement of your joints today, we look for a solution that will solve the problem for the next ten years. At the same time, we also consider the years beyond that.
By preserving much of the patient's natural joints as possible (ligaments, cartilage and bone), we are able to follow a stepped approach to treatment (using fusion or replacement of joints, only as a last resort).
Patients at the Gelenk Klinik can be confident that we will always work towards helping them achieve optimum mobility from their joints at each stage of their natural ageing process.
Compassion - Fostering close doctor-patient contact and clearly explaining our treatment procedures. Being generous with our time. Being willing and able to understand our patient's point of view at all times.
Excellence - Striving to maintain and exceed quality standards in all we do. Supporting continuous learning throughout our team. Encouraging the use of innovative techniques. Sharing new ideas.
Respect - Recognising, respecting and supporting the differing needs of individual patients and their families. Encouraging open dialogue. Being receptive to and acting on feedback.
Teamwork - Valuing collaboration between our patients, their families and our clinical team. Striving to acquire and understand information, and share it clearly and effectively to ensure the best outcome and treatment environment for our patients.