Dr. med. Peter Jedrusik, Senior Consultant for Radiology and Orthopaedic Diagnostic Imaging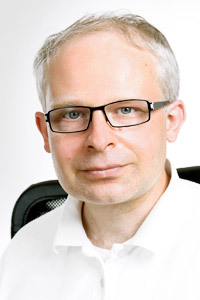 1999 graduation from medical school Albrecht-Ludwigs-University of Freiburg
2001-2005 University of Tübingen
2005-2009 Department of Radiology at the Hospital Eichert in Göppingen
Expert Consultant for Specialised Back and Spine Diagnostics
2008 PhD University Hospital Bochum
2011-2013 Neuroscience Centre of the University Hospital Freiburg
Languages: English, German, Polish
Dr. Peter Jedrusik is a specialist in radiology. He specialises in radiology of the skeleton and the locomotor system, neurosurgical and neurological imaging.
Education in Radiology and Diagnostic Imaging
2001-2005 University of Tübingen
2005-2009 Department of Radiology at the Hospital Eichert in Göppingen
2010-2011 Olga Hospital in Stuttgart
2011-2013 Neuroscience Centre of the University Hospital Freiburg
Memberships
Deutsche Radiologische Gesellschaft (DRG)
List of Scientific Publications
Dural metastases of a glioblastoma.
Lettau M, Jedrusik P, Laible M.
Clin Neuroradiol. 2013 Dec;23(4):323-5.
Impact of preoperative antiandrogen medication and nerve-sparing surgery on the outcome of radical prostatectomy.
Hodzic J, Jedrusik P, Reckwitz T, Knopf HJ, Golka K.
Int Urol Nephrol. 2008;40(4):965-70
CT-based assessment score after ventral spondylodesis for thoracolumbar spine fracture.
Badke A, Jedrusik P, Feiler M, Dammann F, Claussen CD, Kaps HP, Weise K.
Unfallchirurg. 2006 Feb;109(2):119-24.
Low-cost data transfer from a questionnaire to standard software using a barcode pen.
Jedrusik P, Schulze H, Claussen CD, Golka K.
Behav Res Methods. 2005 Feb;37(1):127-32.
Simplified production of multimedia based radiological learning objects using the flash format.
Jedrusik P, Preisack M, Dammann F.
Rofo. 2005 Jul;177(7):1009-15. German.
Quality of life following radical prostatectomy
Hodzic J, Jedrusik P, Reckwitz T, Golka K, Schulze H.
Aktuelle Urol. 2003 Sep;34(5):337-40.
N-acetyltransferase 2 phenotype in painters with bladder cancer and controls.
Golka K, Weistenhofer W, Jedrusik P, Geller F, Blaszkewicz M, Bolt HM.
Ann Acad Med Singapore. 2001 Sep;30(5):464-7.
Cultures of exfoliated epithelial cells from different locations of the human urinary tract and the renal tubular system.
Dörrenhaus A, Müller JI, Golka K, Jedrusik P, Schulze H, Föllmann W.
Arch Toxicol. 2000 Dec;74(10):618-26.