Facts and Facilities at a Glance: 20 Years of Dedicated Service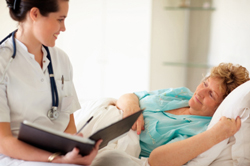 Our dedicated team of orthopaedic health professionals will do everything they can to make your stay as comfortable as possible. You will receive around the clock care from our specially trained team. Emergency Service is available at all times. We strive to respond to your individual needs, such as special dietary requirements.
Patients benefit from the luxurious environment of a private clinic, with facilities and services adapted to the needs of international patients.
Our comfortable private rooms include an en-suite bathroom, minibar, safe, flat screen TV, DVD player and WIFI internet access. The Gelenk Klinik orthopedic hospital has international ISO 9001 quality accreditation.
Read more about clinic facilities
View Larger Map