Strasbourg and the Alsace - French Savoir Vivre on the doorstep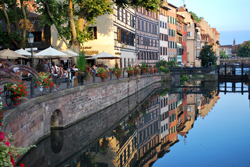 More Information about the Alsace
At the northeast frontier of France, bordered by the Rhine, lies Alsace. It is characterised by a gentle rolling landscape, with mountains on one side.
A particularly scenic drive runs south from Strasbourg to Colmar, taking in pretty villages, castles, vineyards and magnificent forests.
It is an area famous for it's cuisine which benefits from both it's German and French influence.
Strasbourg, the capital of the Alsace region, is a cosmopolitan city with a 16th century centre. Halfway between Paris and Prague, it is often referred to as the "crossroads of Europe". One of the best ways to see the most traditional features of the city, including the famous "Ponts-Couverts" (covered bridges) and medieval watch towers, is to take a boat trip along the canals which surround the historic city centre or Grande Ile (Grand Island).
Strasbourg centre was classified as a World Heritage Site by UNESCO in 1988.
By car: driving time to Strasbourg from Freiburg is 55 minutes (82km).