Black Forest - Germany's famous Schwarzwald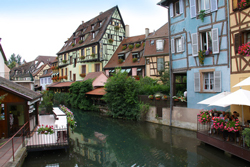 Whilst in Freiburg, you are already within the 200km long and 60km wide area which makes up the Black Forest. It is not only the largest of the German forests, but it also the most varied and most beautiful.
With it's houses sheltering beneath massive sloping roofs, it's famous gateau, it's cuckoo clocks and colourful traditional dress, it provides a storybook picture of Germany.
Freiburg makes a perfect base for exploring the Black Forest with fast and frequent public transport to all the famous beauty spots.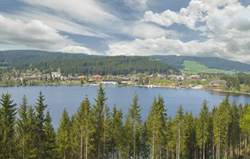 The southern part of the forest is a highland region, bordered to the west and south by the River Rhine, which also forms the frontiers with France and Switzerland. It's landscape of forested hills is especially attractive around the peaks of Belchan and the Feldburg mountains. They offer vast panoramic views, reaching as far as the Swiss Alps and the Western Rhine valley on clear days.
Whether you like hiking, cycling, a gentle walk, relaxing at thermal baths or exploring historic towns such as Karlsruhe, there is plenty to keep the whole family busy in the Black Forest area.