Prof. Dr. Lukas Konstantinidis, MD, Senior Orthopaedic Consultant and Trauma Surgeon
Treatment focuses:
joint-preserving hip surgery, hip arthroplasty, knee arthroplasty, revision surgery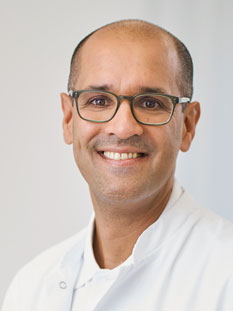 Even during my first internship when I started studying, I was fascinated by the incredible options of endoprosthetics. This speciality combines great craftsmanship with a deep knowledge in anatomy. During my time at university I realized that an artificial joint is not the final stop in treating a patient but instead the beginning of a chapter with a new quality of life and enjoying being active and sports.
Before the artificial joint I always explore the options of a joint-preserving procedure. This includes repositioning the bone, procedures on the joint capsule, thigh and the labrum. My primary goals are achieving pain-free mobility and avoiding osteoarthritis of the hip in my patients.
I have set high standards for myself as a specialist in endoprosthesis with accuracy down to the millimeter. Every human has a slightly different anatomy and even the smallest deviations in hip or knee replacement determine success or failure. Precise planning beforehand, the possibility of computer-assisted navigation and gentle AMIS technique for hip surgeries help me implement this philosophy.
The AMIS technique is an innovative surgical method in which a hip is replaced particularly gently using a minimally-invasive port from the front. As a surgeon, I don't damage important muscle groups or nerves in the groin area in the process. The risk of post-op hip pain, limping and instability is low, and patients can be mobilized quickly. I am a primary care doctor for the AMIS technique and regularly instruct hip surgeons in this technique.
Defects in the implanted prostheses can arise even years after the procedure, noticeable by pain. I offer every patient who is not satisfied with their implant the option to investigate the problems and provide them with treatment options. My recommendations are always based on scientific findings and experience, and are far from being influenced by unfounded opinions or economic factors.
The satisfaction of my patients, particularly in joint-preserving hip surgery, resulted in me making the Focus list of physicians in 2021 and 2022, which I'm quite proud of.
Additional qualifications:
Fellow for the AMIS technique (anterior minimally-invasive surgery)
Specialist for Trauma surgeon
Special orthopedic surgery
Clinical focuses:
Joint-preserving hip surgery: arthroscopic and mini-open CAM correction and labrum repair, surgical dislocation of the hip, periacetabular osteotomy, osteotomies of the proximal femur
Primary hip arthroplasty: minimally-invasive AMIS technique
Revision hip arthroplasty for any severity
Primary knee endoprosthetics: unicompartmental partial prosthesis, resurfacing, computer-assisted navigation
Revision endoprosthetics of the knee of any severity
Medical Career:
Medical placements:
Doctorate dissertation:
"Robotic-assisted thoracoscopic gastro-oesophageal anastomosis versus gastro-oesophageal anastomosis using conventional thoracotomy: comparison of stress response and the cardiopulmonary function"
Habilitation dissertation:
"Biomechanical analyses on osteosynthetic care of osteoporosis-related fractures of the proximal femur"
Fellowships:
Publications