Dr. Dirk Hömig, Orthopaedist and Trauma Surgeon, Special Orthopaedic Surgery
Treatment specialities:
Knee and hip surgery, endoprosthetics, paediatric orthopaedics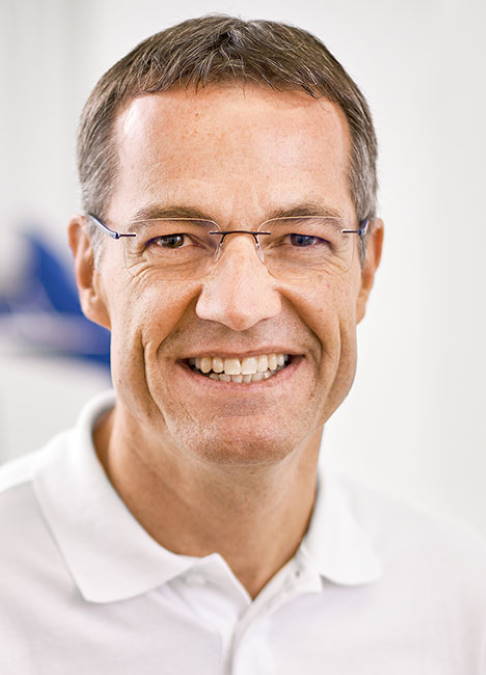 Our health is our greatest asset. Particularly in orthopaedics it's very possible to improve a patient's health through various treatment options. It's a very satisfying and diverse professional task.
I already took an interest in natural sciences in school. I particularly wanted to understand the complex processes and connections of the human body and wanted my profession later in life to give me purpose.
The combination of working with my hands and providing advice is a particularly satisfying task. I immensely enjoy working with people in different age groups. In paediatric orthopaedics in particular, conditions can sometimes be treated with simple measures with a matter of weeks. This can help to spare the infant numerous possible surgeries over the course of its life. One example is the Tübingen hip flexion and abduction orthosis used in the case of an incorrectly developed hip joint (dysplasia). Even helping to significantly improve the quality of life for people who have been suffering from arthritis pain for years is a wonderful part of my job.
Here at Gelenk-Klinik we have access to all modern medicine has to offer. The specialised orthopaedic medical practice offers modern treatment concepts in a comfortable environment with extremely competent staff.
Additional qualifications
Speciality orthopaedic surgery
Certificate paediatric orthopaedics from the Vereinigung für Kinderorthopädie
Sonography of the infant hip
Sonography of the musculoskeletal system
Diagnostic radiology of the entire skeleton
Chirotherapy
Certificate Gesellschaft für Fußchirurgie (GFFC)
Medical career
Medical training:
Student in practical year:
Medical wards:
1998 to 1999: Residency at Klinik für Orthopädie, Markgröningen
1999 to 2001: Residency at trauma surgery clinic, Marienhospital Stuttgart
2002 to 2004: Residency at orthopaedics clinic, Ortenau Klinikum Offenburg
2005: Orthopaedist
2006 to 2010: Acting senior practitioner at orthpaedics clinic, Ortenau Klinikum Offenburg
2008: Orthopaedist and trauma surgeon
2010 to 2019: Senior physician in orthopaedics, Ortenau Klinikum Offenburg-Gengenbach specialising in endoprosthetics and paediatric orthopaedics
2014 to 2019: Senior surgeon at the maximum care endoprosthetics centre, Ortenau Klinikum Offenburg-Gengenbach
2019 to present: Senior physician at Gelenk-Klinik Gundelfingen
Topic of dissertation:
Second look arthroscopy after reinsertion and reconstruction of the anterior cruciate ligament
Publications
Krischak, G., Hömig, D., Beck, A., Wachter, N., Pokar, S., Kinzl, L., & Hehl, G. (2001). Beurteilung von Knorpelveränderungen im Rahmen der "Second-look"-Arthroskopie 12 Monate nach operativer Rekonstruktion einer vorderen Kreuzbandruptur. Der Unfallchirurg, 104(7), 629–638.
Fuchs, A., Häussermann, P., Hömig, D., Ochs, B. G., Müller, C. A., Helwig, P., & Konstantinidis, L. (2018). 5-Jahres-Follow-up von 210 Columbus-Knietotalendoprothesen. Der Orthopäde, 47(10), 859–866.